The intent of the curriculum is to enable all children to become successful learners, confident individuals and responsible citizens.
All children at Halcyon Way receive a varied, engaging and appropriate curriculum offer which has been developed to ensure learning opportunities are challenging yet exciting and motivating to celebrate individuality and personal achievement.
Each term's learning is planned for in terms of:
National Curriculum / Early Years Foundation Stage Curriculum
Vocational / Life Skills / Accreditation
Enrichment
The curriculum enables greater flexibility in meeting individual learning needs whilst allowing for a more mainstream breadth and curriculum content when appropriate.
Halcyon Way delivers a thematic, creative curriculum based on cycles of themes for EYFS and each of Key Stages 1 and 2. This enables shared understanding of key themes of learning across the school whilst giving variety and breadth of opportunity. The cycles ensure that children do not repeat themes during their time at the school and also enables the breadth and depth of the knowledge base within the National Curriculum to be delivered in a structured and appropriate way.
The school uses the National/EYFS Curriculum as the basis for providing broad and balanced learning whilst adapting and developing it in order to meet the specific needs of the pupils.
A key principle in curriculum delivery focuses on Getting Ready for Learning. This is a fundamental aspect of teaching and learning and there is a great emphasis on ensuring that children are ready to learn through the use of a range of strategies differentiated to meet the needs of the children.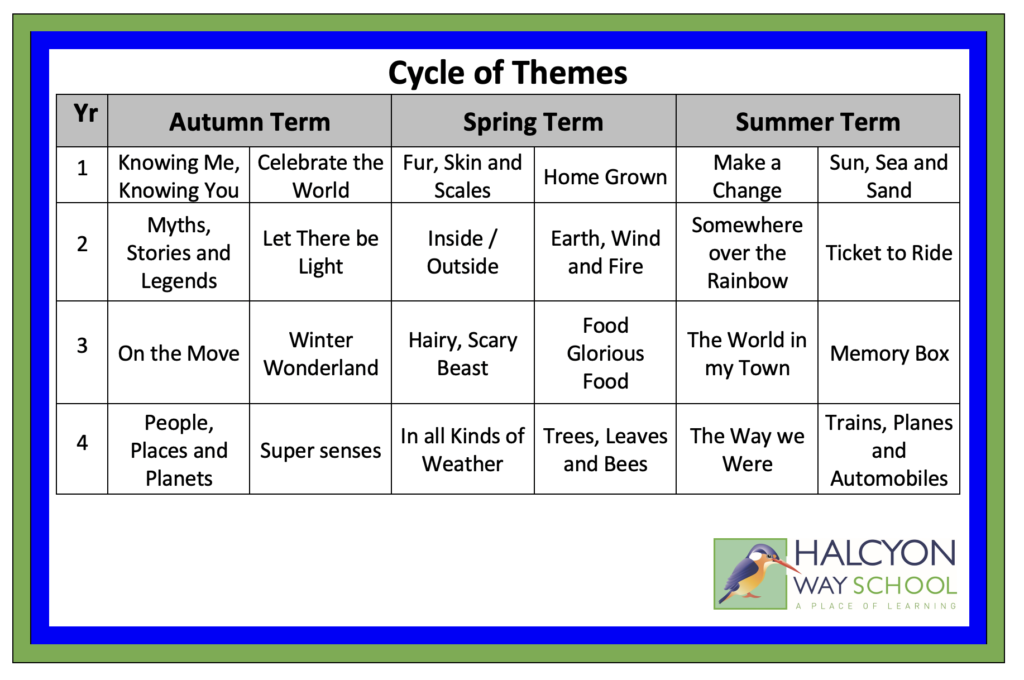 Halcyon Way uses a thematic approach (see table) to plan for teaching and learning which advocates creativity and active engagement in learning. This thematic approach also enables children to make links across and between their learning, making use of key skills in a variety of situations to help them generalise and apply their learning.
Learn More About Our Curriculum